Lameness Exam
A lame horse may have an obvious problem, like a non-weight bearing or swollen leg, or a more subtle lameness. We use a variety of techniques to help identify the source of a lameness including physical examination and palpation, checking the hooves for soreness with hoof testers, gait assessments, flexion tests, nerve and joint blocks.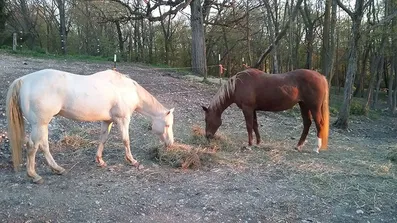 Digital Radiography
At FVC, we have portable x-ray units that can be taken to the farm or used at our clinic. Our digital radiography allows us to view the radiographs right away on a laptop computer while still at the farm. These high-quality x-ray images can be easily sent to other veterinarians or specialists for a second opinion or consult via email.
Ultrasonography
This valuable diagnostic tool uses sound waves to evaluate soft tissues like tendons/ligaments, the reproductive tract, and swellings/lumps. It is painless and non-invasive. Ultrasound exams can be done at the farm or at our clinic.