Fredonia Veterinary Clinic is fortunate to have veterinarians that also offer non-traditional services. These treatments complement traditional medicine to provide the best care to your pet.
Canine Therapy & Rehab
One of the newest services offered in veterinary medicine is canine rehabilitation. This field is comparable to human physical therapy. It utilizes different modalities, exercises, and knowledge to achieve positive outcomes in canine patients. The benefits of rehabilitation are many and include:
Decreased pain
Increased strength and function of muscles
Increased range of motion of joints
Weight loss
Increased success rate after orthopedic surgery
Conditioning of athletes
Enhanced performance
And improved quality of life!
The indications for rehabilitation include orthopedic disorders (arthritis, dysplasia, post-op, patellar luxations), neurological disorders, obesity management, conditioning of canine athletes, wound care, senior fitness and many more. Dr. Deb Schneider is trained in this field and eager to talk about rehabilitation options for your pet.

Modalities offered at Fredonia Veterinary Clinic:
Passive Range of Motion - increases joint mobility
Neuromuscular Stimulation (NMES) - strengthens muscles in non-ambulatory patients and prevents muscle loss post-surgery or injury
Weight loss programs
Therapeutic exercises
Cavaletti poles
Wave exercises
Ball work, balance and wobble boards
Custom home exercises and owner education
Acupuncture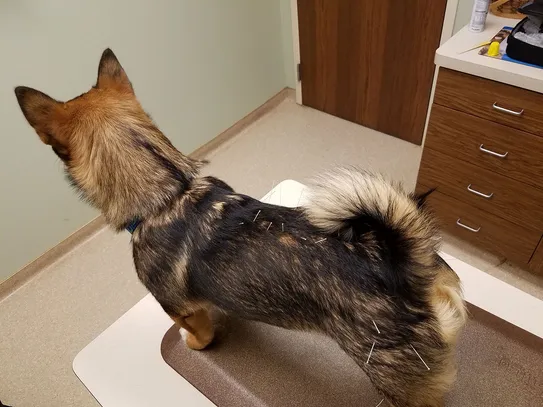 Acupuncture is one of the oldest medical treatments known. In traditional Chinese medicine, acupuncture is thought to release "blockages" in "energy channels" of the body. In modern scientific terms, acupuncture needling has been found to cause the release of the body's own chemicals in the muscles, spinal cord, and brain which ultimately lead to pain relief, healing, and relaxation. Treatment times vary (5-20 minutes on average). Acupuncture needles are very thin and sterile and are relatively painless (although occasionally certain spots can be sensitive). Multiple needles will be placed in specific locations depending on the animal's specific condition. The effects of acupuncture are cumulative, so several sessions are often necessary at first and then tapered down as needed for maintenance. Many conditions respond to acupuncture. It can be used as treatment for various conditions affecting the musculoskeletal, neurologic, gastrointestinal systems, skin, stress, and more. Sometimes it is beneficial to use laser therapy in conjunction with acupuncture.

Laser Therapy
Low Level Laser Therapy (LLLT or "Cold Laser") is a modality available at Fredonia Veterinary Clinic. Laser therapy has a variety of applications in healing and rehabilitation.
Specific wavelengths are used to stimulate cells to provide pain relief, decrease inflammation, increase tissue repair, improve circulation, decrease scar tissue, and enhance wound healing. Our veterinarians are happy to discuss how these therapies in conjunction with traditional medicine may help your animal heal.