At Fredonia Veterinary Clinic, we strive to provide quality veterinary care and friendly service to keep our
patients healthy and happy. We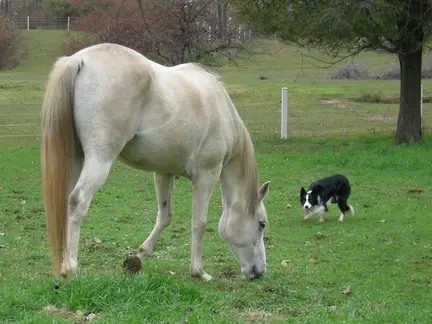 understand the many important roles our patients play in their human companion's lives. Whether a beloved family member, a working companion, an equine athlete, or a trail horse - there are many ways our animals enrich our lives. We can help to keep your animal healthy throughout their lifetime.
We are a 7-doctor, mixed animal practice established in 1982. Our veterinarians and staff care for a wide variety of animals. We see pets (dogs, cats, pocket pets, rabbits, guinea pigs, rats, mice, ferrets, hamsters, gerbils, some reptiles, and small birds), equine patients (horses, miniature horses, ponies, donkeys), and farm animals (goats, sheep, alpacas, llamas, dairy cattle, beef cattle, some pigs). We provide routine preventative medicine and wellness exams as well as the evaluation and treatment of illnesses, injuries, or other needs that arise with our patients. Services provided include dental care, behavior counseling, dietary counseling, microchipping, parasite prevention, elective surgeries, reproductive care, diagnostic testing, Canine Therapy & Rehabilitation, acupuncture, Veterinary Spinal Manipulation therapy, and cold laser therapy.
Our facility includes a well-stocked pharmacy, in-hospital surgery suite with laser surgery, dedicated anesthesia monitoring, electrocardiography, in-house digital radiography (digital x-rays) and ultrasound equipment. We offer in-house lab testing and have a closely supervised hospitalization area for pets. For horses and farm animals, we provide ambulatory services (farm calls) and also have in-house clinic facilities with a treatment area, including stalls and stocks. We provide emergency services for our patients after hours. When needed, we also work closely with referral/specialty and emergency practices in our area.
Fredonia Veterinary Clinic is located between West Bend, Random Lake, and Port Washington/Saukville, about 35 miles north of Milwaukee in southeastern Wisconsin. Our clientele also extends to Grafton, Mequon, Cedarburg, Jackson, Germantown, Kewaskum, Campbellsport, Batavia, Cascade, Plymouth, Sheboygan Falls, Sheboygan, Cedar Grove, Oostburg, and Belgium. We are in Ozaukee County and also provide farm calls to Washington County, Sheboygan County and Fond du Lac County in WI.